Am I the only one that can't believe that this is the last Friday before Christmas? This time next week, it will all be over for another year:( Part of me is thrilled that we are only 6 days away from the big celebration. And part of me is already sad that it's come and gone so quickly this year, along with a bit stressed about all I still have to get done before December 25th arrives!
Before I get bogged down with a litany of "to do" lists, let's get to our Friday link ups. You can check out who I am linking up with below.
1| My Grown Up Boy
B took Caleb to get a haircut last week, and I just can't get over how grown up he has looked ever since then. This was only his second official haircut, but both times he's gotten one, I feel like he has lost a bit more of the baby in him. So...I've decided. He's never getting a haircut again. He's not allowed to grow up. Nope. Nope. Nope.
2| A Christmas Card Kerfuffle
After a little kerfuffle with Shutterfly (who I've always had great experiences with in the past), I was panicking thinking that my Christmas cards would not go out on time. I called them early this week wondering when I was going to get a shipment update on my order...Just to find out that my order had never made it to FedEx. Thank God I called, or who knows where my cards would be. Shutterfly immediately reprocessed the order and was able to get them shipped to me yesterday. I spent Caleb's entire naptime furiously addressing each card, but they all went out this morning, so hopefully everyone will receive their card before the holiday. Nothing like cutting it close.
3| The Best Maternity Pants
Several of you asked about the pants I am wearing in the pictures below

(which are from a post earlier this week)

. They are Gap maternity. And they are the best! Unfortunately, they were purchased during my pregnancy with Caleb and are out of stock now. However, this pair is very similar to the ones that I have. They don't have the zippers around the ankle, but otherwise look to be the exact same pant. They are super soft, super comfy, and super flattering, so if you are pregnant, take a look at these (which are also on sale!) I may just be grabbing a pair for myself!
4| Holiday Partying with a Bump
Tonight, B and I will be attending the annual holiday party at the home of one of the orthopedic surgeons that B works with. Well, trying to attend, I should say. Every plan is always completely contingent on B's work schedule. If a trauma comes in, all bets are off. But for now, I am planning on it unless I hear otherwise. I've got a black, open-back, gold sequined tunic top on the rack and ready to wear with either leather leggings or a pair of opaque black tights. It's flowy and comfy and cute, and only shows a tiny hint of the bump I am sporting. I'm super excited about the opportunity to dress up and celebrate the holidays! Fingers crossed that we are able to go.
5| A Vow to Enjoy
My friend Amy and I have been hosting a 12 Days of Cheer series

(see below for more info)

in an effort to help remember the little things that sometimes get lost in the hustle and bustle of the season. In the spirit of this mindset, and with only 6 days left to go, I am going to make a concerted effort to really enjoy these last few days of the holiday season. To drink that cup of hot chocolate I've been meaning to make. To sit by the light of the Christmas tree, and just admire the twinkle (without the tv on, without the computer on my lap, and without my phone in my hand). To sit down and finally make that craft with Caleb I've been meaning to do for weeks now. To contemplate the things I am thankful for at this time of year, and allow myself to feel joy over the wonderful things to come in the new year.
If you'd like to participate in any of the fun Friday link ups going on around blogland today, be sure to visit any of the following blogs:
5 o
n Friday with April of
A. Liz Adventrues
, Christina of
Carolina Charm
, Natasha of
Hello! Happiness
, and Darcy of
The Good Life
.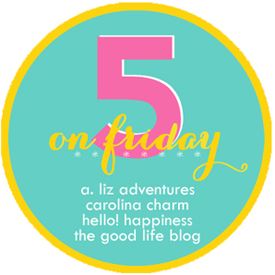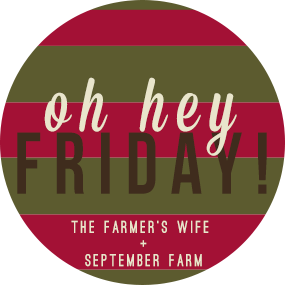 ...................................................
Welcome to day 10 of the

12 Days of Cheer

series! I can't believe that there's only 2 days left in our 12 day series! It's gone by so fast.
Today's bit of cheer comes from my favorite new ornament on our tree this year. I purchased this one as part of a tradition that B and I started last year for Caleb's first Christmas. Every year, we purchase one ornament for our tree that signifies our sweet son. And we purchase one ornament for him, that will one day go with him when he moves out of our house to a home of his own and a Christmas tree of his own. That way, when he's grown, he'll have a head start on an ornament collection, and they will all be sentimental ones that mean something from each year that he spent growing up in his Mama and Daddy's house. This ornament for 2014 is a sweet little train with his name on it. Caleb is all boy, and this train could not be a better indicator of the things he is interested in - cars, trucks, trains, planes. Things that move and make noise!
If you have a bit of cheer you'd like to share with Amy or I as part of our series, grab the button above to include in your post, and then let us know in our comments section. Days 11 and 12 will be Monday and Tuesday of next week, so it's not too late to participate for a day or two if you are interested. Happy weekend!