Happy Thursday, sweet friends! One more day to go, and then we can all enjoy a long weekend. I'm still tired, sniffling and sneezing today, and am definitely looking forward to the break. How bout y'all?
Yesterday, my sweet baby got to stay home from daycare and hang out with my sister, who came to town for a short visit. Caleb enjoyed spending some time with Aunt Jen all day, and I have a feeling he won't love being back at daycare today (nor will I, as it was so nice to be able to sleep for an extra 30 minutes yesterday morning). She snapped some sweet photos, and sent them to me throughout the day. Here's a few of the shots she took:
In other news, yesterday on the blog we talked a bit about fall fashion, and I shared my very own little wishlist for the season. But, I'm no longer the only one in our family who needs a seasonal wardrobe update. No ma'am. There's a handsome little guy in our house now, who requires a fashion wishlist of his own. Over the past few weeks, I've been getting daily emails from Carters, Zulily, babyGap and more, reminding me that their fall fashions have arrived for the tiniest member of the family. And of course, like any responsible mother, I click on over and check out what these stores have to offer. I've made a few recent additions to Caleb's fall wardrobe (which is already full to bursting - note to self: don't buy any more 6 month or 6-12 month clothing items).
Among these purchases are a few things I thought I'd share, along with a few things we have yet to buy, but will definitely be making an appearance in the little man's closet soon. Today's list is a
wishlist 'pour le bebe' (for the little one/baby). Which may just be even more fun than talking about the wishlist for me...
Here's What's on Caleb's Wishlist for Fall 2013:
Suede Booties
Like his Momma, Caleb will be jumping on the neutral boot train this fall - albeit in a much cuter manner than I will be! These tiny little baby Gap booties can be paired with any of his little pants and play outfits for both daycare and other events. They'd perfect with everything from overalls to fleece pants. Don't they just look so cute and cozy?
Sweater Jumpsuits
There's something so sweet and timeless about a baby in a jumpsuit - and the sweater ones that are out for the fall are so sweet and cuddly. I purchased a navy blue and white striped one recently, but can just see my little man rocking this sweet Target option, with his round tummy poking out the front and presh diaper bottom poking out the back.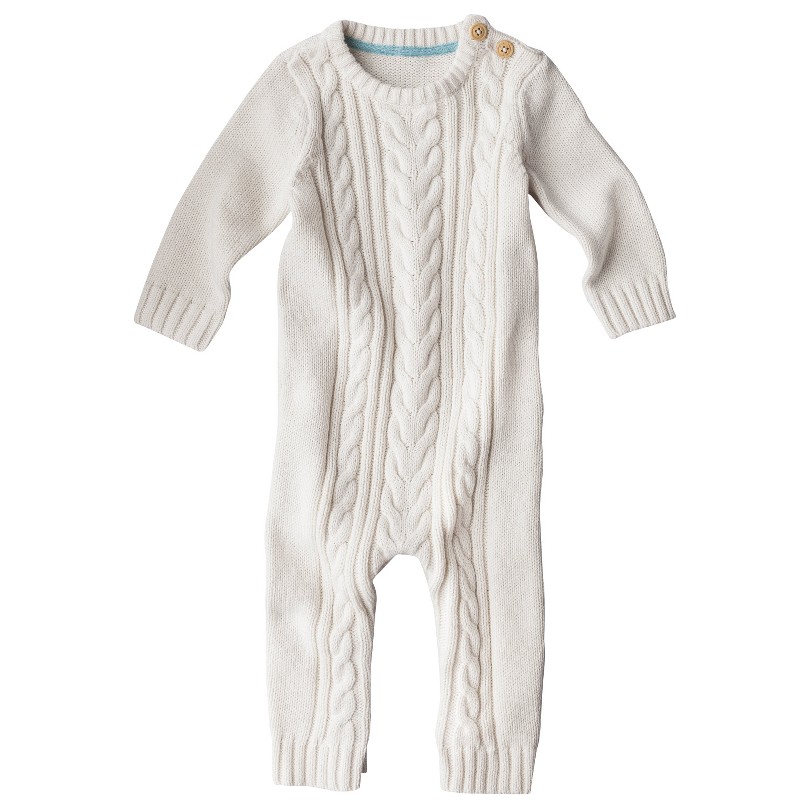 We love onesies paired with soft cotton pants for every day outfits and daycare. They're comfy, easy to wash, look cute, and wear well. Target has come adorable fall-themed ones right now (I picked up the set shown below last week). And so does baby Gap. I love how the ones at baby Gap look like shirts, but are really onesies. Wearing these, Caleb can be stylin', but at the same time, still benefit from the convenience of a onesie.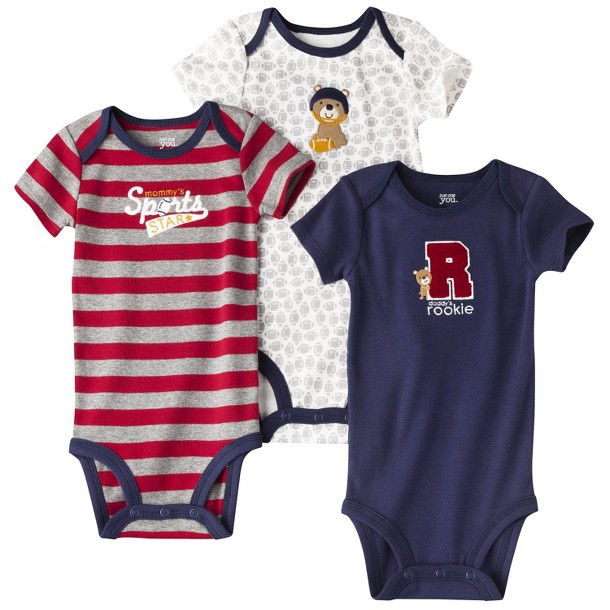 Fall Socks
Little man needs some new socks. His feet have grown and the 0-3 month socks we are hoarding no longer fit his long feet. I am loving all the vivid colors and patterns that are out now for fall. They're making dressing my tiny man much more fun.
Reindeer Knit Socks / Football Knit Socks
Caleb will be rocking some baby denim this season. There is nothing quite as cute as a baby bottom in blue jeans. Adorbs. We like the jeans and overalls from Oshkosh B'Gosh. They're sturdy and well-made. And the store offers deep discounts on a weekly basis - I purchased Caleb's 6 month jeans for a mere $10 a pop a couple of weeks ago. And they're still listed at that price as of today. Grab some!
Cardigan Outfit Sets
Caleb is a hot-natured little guy. I have found that he is the most comfortable dressed in layers. We like little outfits like this one, that come with cardigans. That way, if he gets warm, the cardigan can easily be stripped off until he cools off a bit. The cardigan can be mixed and matched with other shirts and pants to create more outfit options, which is another positive feature.
Halo Micro-Fleece SleepSack Wearable Blankets
Our little guy is a mover and a shaker. Even when he sleeps. He hates to be swaddled and has a tendency to pull blankets up towards his face - which, of course, makes this Momma extra nervous. To prevent this during the cooler months when a blanket is necessary, we've purchased several of the fleece Halo SleepSack Wearable Blankets. This way, the baby is warm and the Momma doesn't worry. Win-win in our house.
Holiday Themed Clothing
I won't even try to hide the excitement I feel over the holiday-themed clothing options for babies. Let's just say Caleb will be rocking some sweet little onesies, pjs, hats and more for every upcoming holiday. And he will love it.
I won't even start posting the Christmas clothing options for babies, as that will most likely be a whole post of it's own. Seriously, don't get me started. So excited.
The warm weather is still upon us for now. But hopefully, my little man will be stylin' when fall finally makes its appearance down here.