Happy Wednesday. This post is coming to you from between sneezes, a runny nose and a mild grade fever. And yes, despite this, I am still at work. Fortunately, my sister is in town today, keeping Caleb for me while I attempt to keep my job. So glad that my little man - who isn't at the top of his game today either - won't have to spend a long day at daycare. Thanks, Jen! She came in last night, and it was so good to get to spend some time with her. I know she is going to adore having a whole day with her precious little nephew. While those two are having way too much fun without me, I thought I'd attempt to distract myself from my myriad ailments and the stack of pending items on my desk here at work, by talking a little bit about one of my favorite things:
Fall Fashion.
I know that it's only August. Which is still in the dead heat of summer. Especially down here in Georgia. And I know that the high temperatures are going to linger - most likely, well into September. We still have almost a month left until summer officially ends; however, it's always at this time of year that I start thinking about, and wishing for, fall. It may be that I am just weary of the warm weather, and looking ahead to the cooler months helps keep me sane. Or, it may be because the stores have been stocking their fall wares for a month or more now, and I am finally breaking down and getting ready to make some purchases. Regardless of the reason, it's at this time of year, every year, that I tend to put the kibosh on summer shopping and start saving for my fall wardrobe. I get tired of all the pale, washed out summer fabrics, and start wishing for the luxe jewel tones and rich fabrics reminiscent of the cooler months. Visions of caramel lattes, cozy sweaters, brightly colored pumpkins, crisp leaves, apple crumbles and snuggly slippers make their way into my brain. And boots! My beloved boots. I cannot wait for boot season again.
Every year, around this time, I make myself a little 'fall wishlist.' A shopping list, if you will. And then I try very hard to stick to that list. Making this list helps keep me focused on shopping for the things I
need,
along with a few things that I have decided I'd like to have for the new season. I have found that having such a list prevents me from being sucked in by sales, keeps me from buying too many pieces that I like but won't realistically wear very often, and helps me avoid overspending the shopping budget.
When making my list every year, I like to focus on a few key pieces for the season. Nothing too expensive - you all know I am wife to a medical school student - but classics that will withstand the test of time. Then I mix in a few trendy items, and that about does it for me.
Here's What's on My Wishlist for Fall 2013:
Jeans
These make the list every year. I usually head to Gap and check out their 1969 denim. You can't beat the price, and I like the way they fit. This year, I plan to purchase a bootcut pair long enough to wear with heals, and a destructed skinny pair to wear with boots and flats.
White Tank Tops
I try to stock up on a few of these every season. I pick up the Target long and lean tanks. They come in a variety of colors and are only $8, so they can be easily replaced when they wear out. I always grab the white ones because I tend to wear them the most under sweaters and long sleeved tops and cardigans during the fall and winter months.
Gold Nameplate Bracelet
This one's not necessarily fall-related, but is something that I'd like to have. I like that it's pretty and dainty - I could easily wear every day. I'd have Caleb's name engraved on it.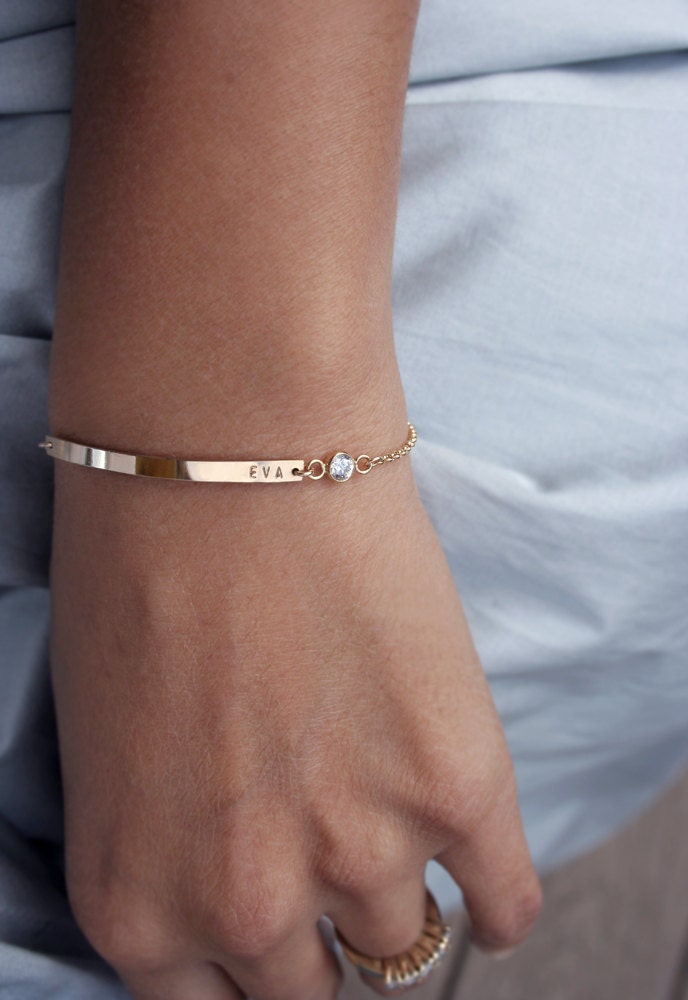 Suede Bag
I like to purchase one new bag every fall. I have a few designer handbags that I've been given as gifts over the years, and while I love them, I don't carry them every day for the sake of avoiding the wear and tear. For daily wear, I like to grab more affordable styles that I won't cry over if it gets rained on. Run over by my office chair (which has happened). Stained. Ripped. Spit up on. You catch my drift. This bag, by Sole Society, is the perfect price and is oh, so chic for the upcoming fall season. Love.
Nude Flats
I've got black ones. I've got leopard ones. Now, I just need a pair of nude flats, and my 'basics' will be satisfied. Sheaffer, over at Pinterest Told Me To, has convinced me that I need to pick up a pair of these. Though a bit pricier than I usually like to pay for shoes, I can see myself wearing them to death, so I think they'll be a good investment.
Then again, I did just find this more budget friendly pair at good ol' Tarjay. So maybe I'll try these, at just $16.99 a pop, before I upgrade to the pricier pair...
White Button-Down
Somehow, I have managed to go for a couple of years now without a classic white button-down. Well no more, my friends. No more. There is no way to look sleeker than with a white button down, dark jeans and some simple jewelry. This closet staple is a fashion 'must'.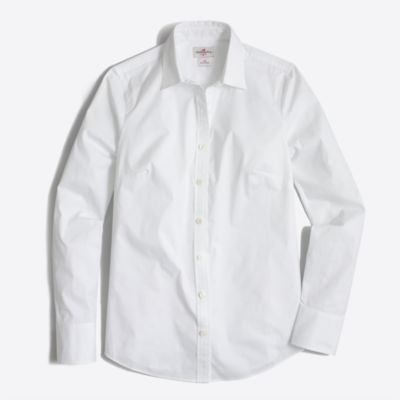 J. Crew Factory Classic Button Down
I need a little something to jazz up some of my fall sweaters and tops. I found this necklace at Stella & Dot, and loved it right away. It's reversible, can be worn long or short, and is simple and elegant - my style in a nutshell. Hopefully, this little beauty will be finding it's way to my jewelry box sometime soon.
Taupe Boots or Booties
I've been wanting a neutral boot for a while now, but just haven't pulled the trigger and made a purchase yet. This year, I think I'm going to go for it. A neutral boot can be paired with anything, so I know I will get a lot of wear from it. Now, I just have to decide - boot or bootie?
That about wraps up my fall wishlist for this year. Now, tell me - what's on your fashion wishlist as we approach the fall season? Is there anything I've missed?
If you'd like to see more of my fall fashion inspirations, take a peek at my "Fall Lookbook" and "Wish List" boards on Pinterest!
And be sure to stop back by tomorrow for a fall fashion wishlist for the little man in my life.