Happy Friday, lovelies! So glad to see the end of another week. I've been looking forward to this weekend, since oh, Monday. I can't wait to sleep in and snuggle with my loves. It's the small things.
One. The New Blog Design!
What do y'all think? It was time for a new look around here, and I am so pleased with this new design. I wasn't ready for a complete blog overhaul (though I do plan to do it one day soon), so I just popped over to Designer Blogs and chose one of their simple templates. Loving it.
Two. Frosted Windowpanes.
You know it's cold in Georgia when Jack Frost comes to visit the windowpanes overnight. There's nothing cozier than frost rimmed windows that just beg for a glowing fire, comfy slippers and an extra large mug of hot chocolate.
Three. A Fall Fun Weekend.
My parents (aka Caleb's Mimi and Poppy) are coming down tomorrow to spend some time with us. On the agenda? Pumpkin carving. Yummy food. And a chance for a little someone special to wear his fat lil' punkin costume. Yes, please.
Four. Blogger Friends.
This week, I have been oh, so grateful for the friendships I have made within the blogging community. My sweet bloggy friends may not be 'in real life' friends, but they are just as important to me as the real life ones. I appreciate each and every one of you:)
Five. The Christmas Countdown.
I realized today (thanks, Natasha) that today marks the 60 day countdown to Christmas! Eeek! We won't really start celebrating until the end of November - we like to give each holiday it's due in our house, so this week when the Halloween stuff comes down, the pumpkins, fall leaves and gourds will stay up for Thanksgiving. But...that being said, I can't believe we are only 60 days out! This Mama still has quite a bit to do to get ready for this holiday season. It's going to be such a magic time with a little one this year. I. Can't. Wait!
If this were "6 on Friday" I would totally make a separate category for the delish pumpkin donuts I indulged in this week. Since it's not, I'm just throwing this in here as a side note. Because they were that good. Head to your local Dunkin Donuts and get you some. Now. You're welcome.
Well, that's all I've got for this installment of 5 on Friday! I'm linking up with Natasha today for this fun weekly favorite. Be sure to head over to one of the blogs listed below and link up to join in.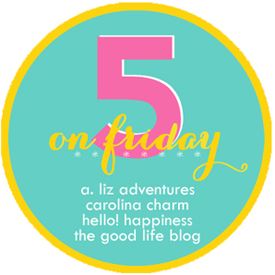 Image Credit